Congratulations to the Marion Patriot Pride Marching Band for taking fourth place in Class 6A at the State Marching Band Contest Monday in Little Rock! This marks the band's highest finish in the 7-year existence of the state contest! The band will wrap up its competitive season Saturday at the U.S. Bands Southern State Championships in Huntsville, Alabama. The Patriot Pride will compete against bands from four states at the contest. To read more, click here:
https://www.msd3.org/article/893893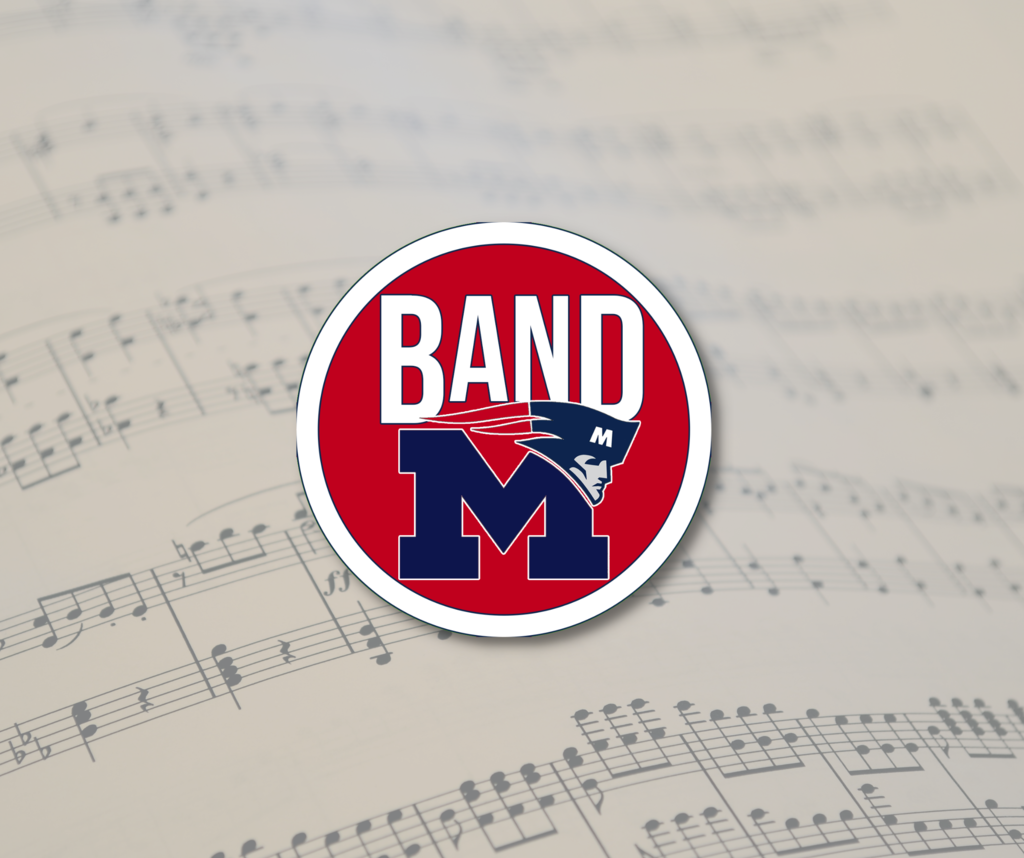 "I believe that unarmed truth and unconditional love will have the final word in reality. This is why right, temporarily defeated, is stronger than evil triumphant." (Martin Luther King Jr., Nobel Peace Prize acceptance speech, Oslo, Norway, 1964) Please join us today in honoring the life and legacy of Martin Luther King Jr.

Don't miss "Sounds of the Seasons," featuring the choirs of Marion High School and Marion Junior High School, beginning at 7 p.m. Monday (Dec. 13) at the Marion Performing Arts Center!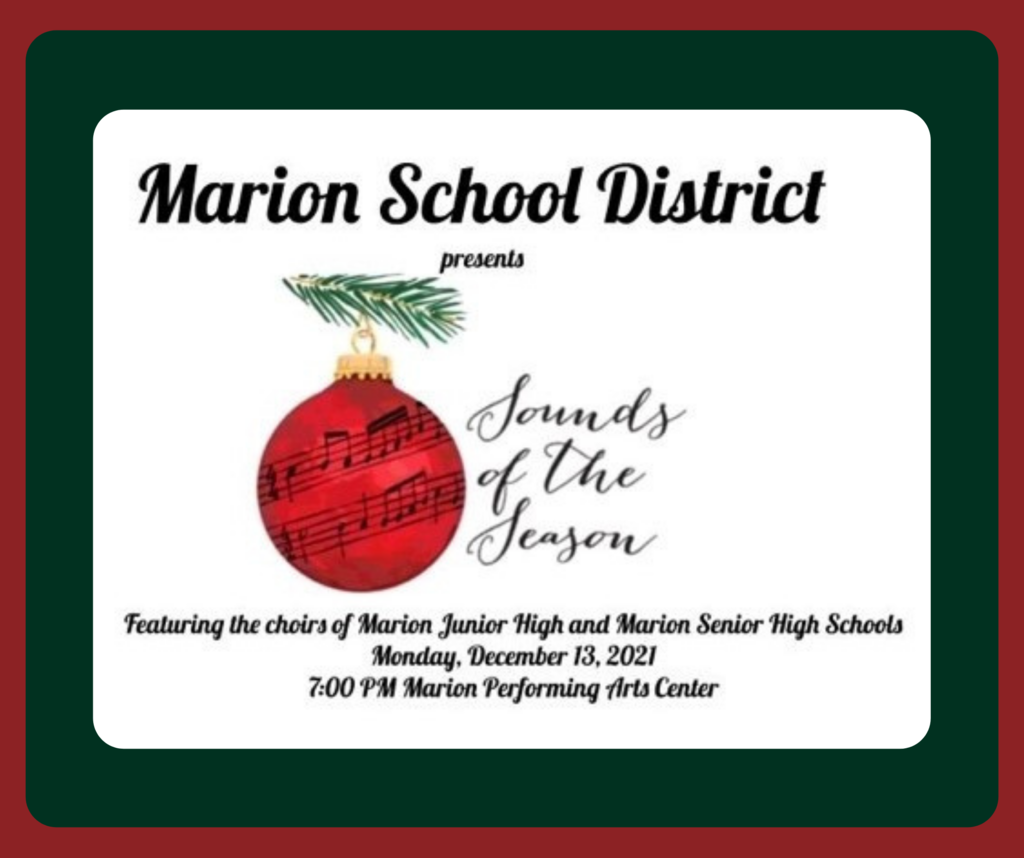 Three great chances to see our award-winning Marion Band over the next week: Sunday, Dec. 5: MHS Symphonic Band performs in concert at Marion First Baptist Church, 6:30 p.m. Tuesday, Dec. 7: Entire band program (grades 7-12) performs Christmas Concert at Marion Performing Arts Center, 6:30 p.m. Thursday, Dec. 9: Patriot Pride Marching Band performs in Marion Christmas Parade, 6:30 p.m. Don't miss these great performances!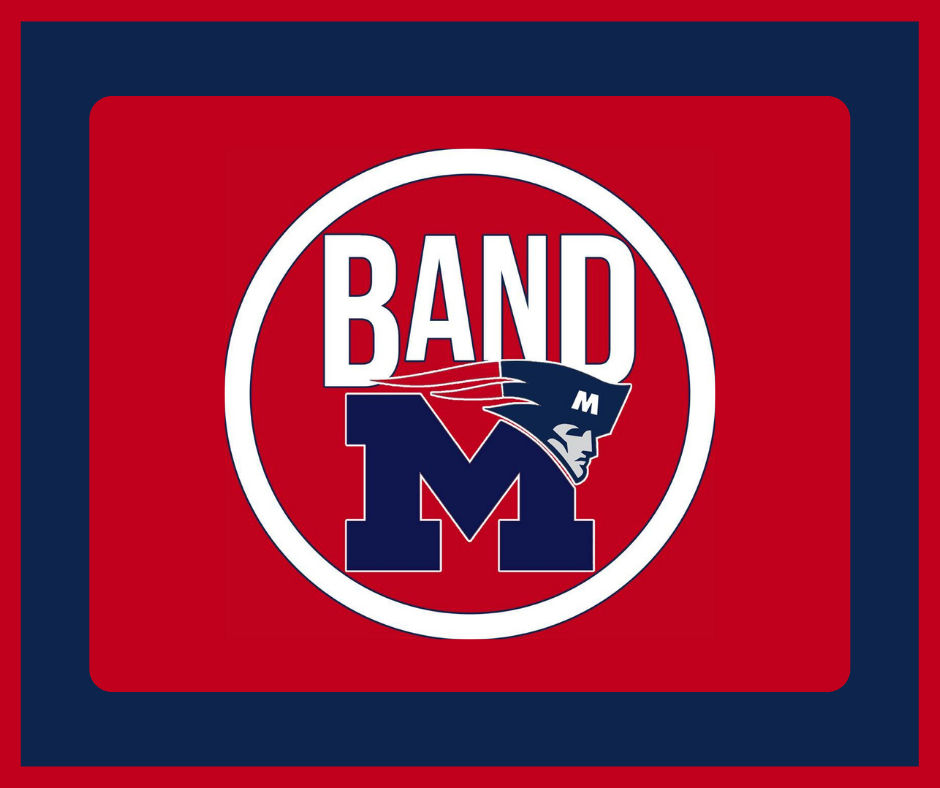 From all of us at the Marion School District, here's wishing each and everyone of you a Happy Thankgiving!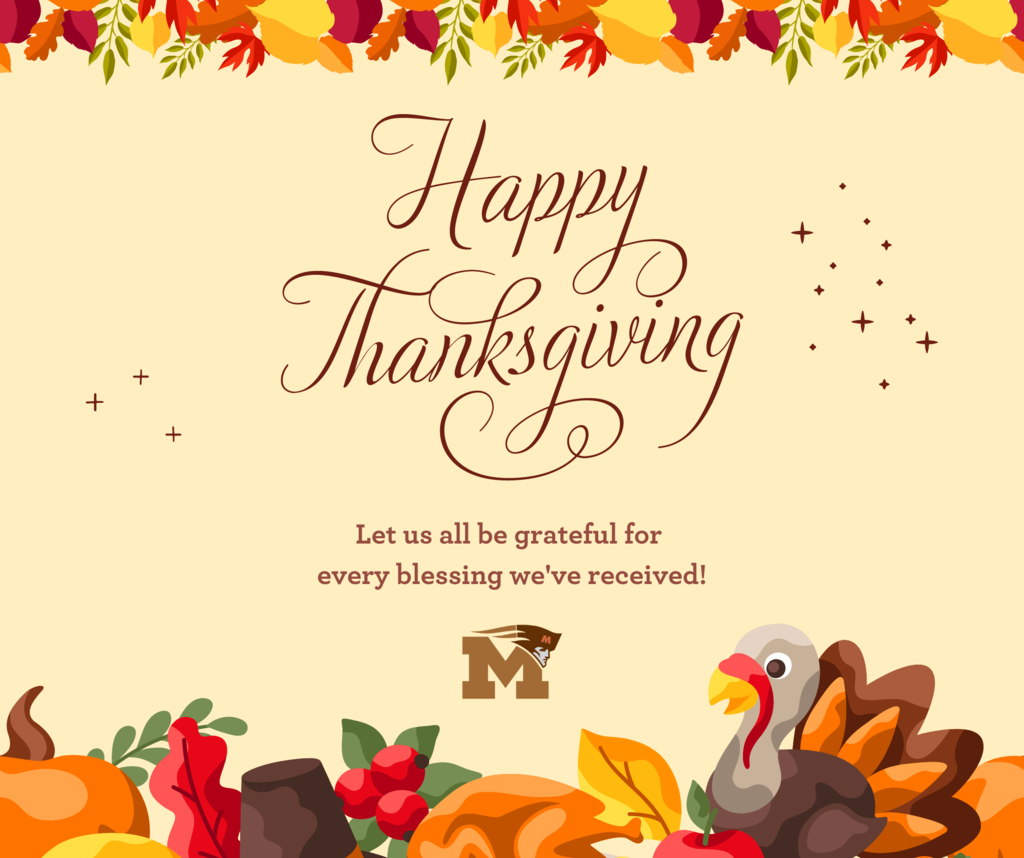 Fifth- and sixth-grade teachers from across the Marion School District recently spent the day reviewing grade-level standards, part of the ongoing effort to ensure that Marion students are mastering standards before leaving their respective grade level. The work is part of the district's mission to help students develop the academic skills they need to succeed throughout their education and in the world beyond. It was a great day of work for the literacy teams!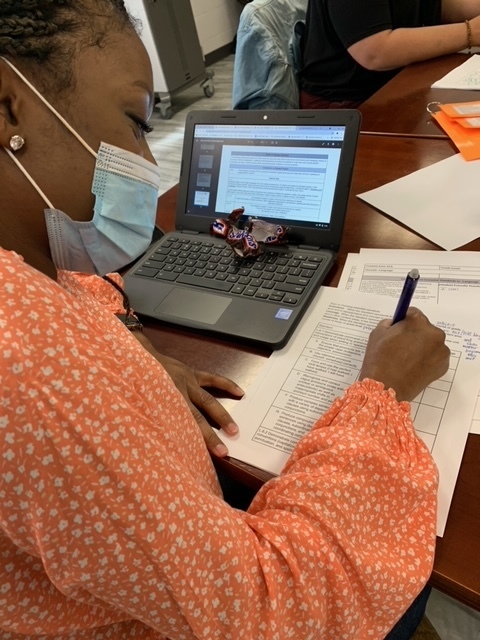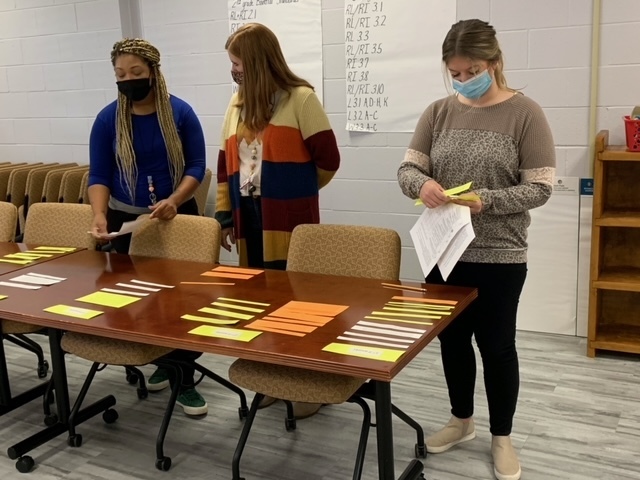 To all who served -- thank you for your sacrifice, your bravery, and the example you set for us all. Happy Veterans Day!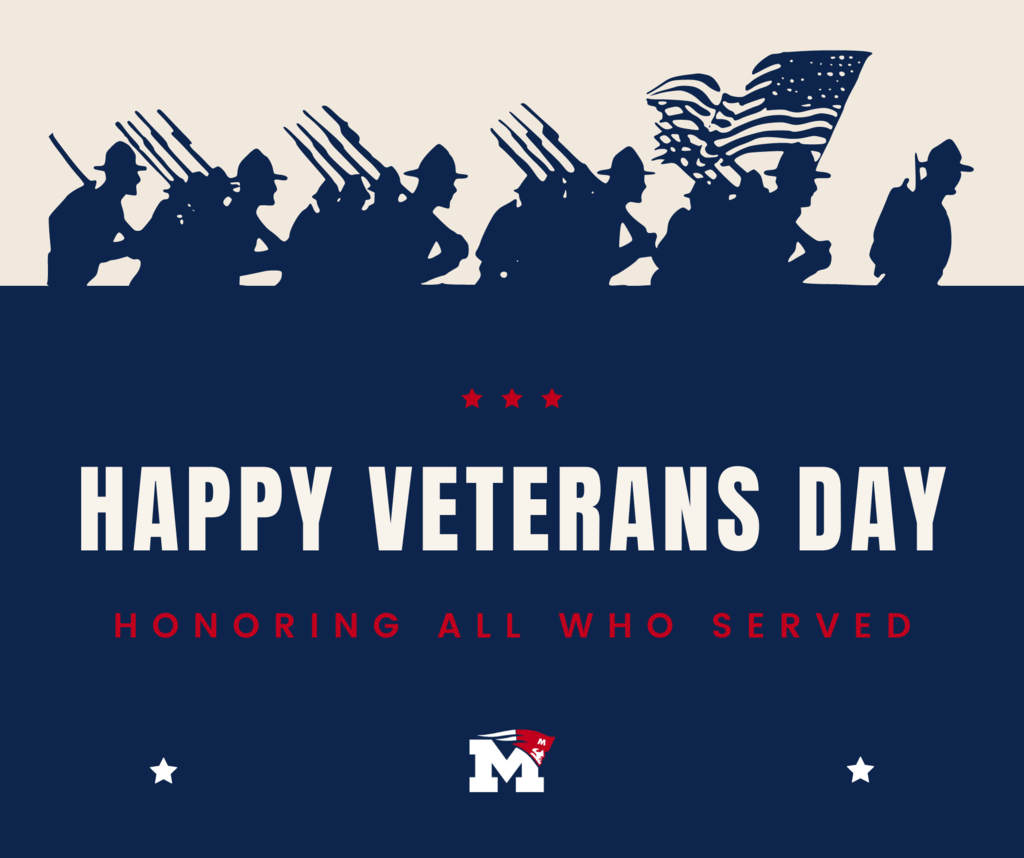 The Marion School District recently launched StudentProtect -- a free app and reporting system for students, teachers, staff, and parents. The app can be used to report bullying, threats, and any other suspicious activity. StudentProtect empowers users of the app to report information that can help identify problems and threats before they come more serious. The district can also use the app to send geo-targeted bulletins to users. To download the app, visit the Apple App Store or the Google Play store and search for Marion School StudentProtect.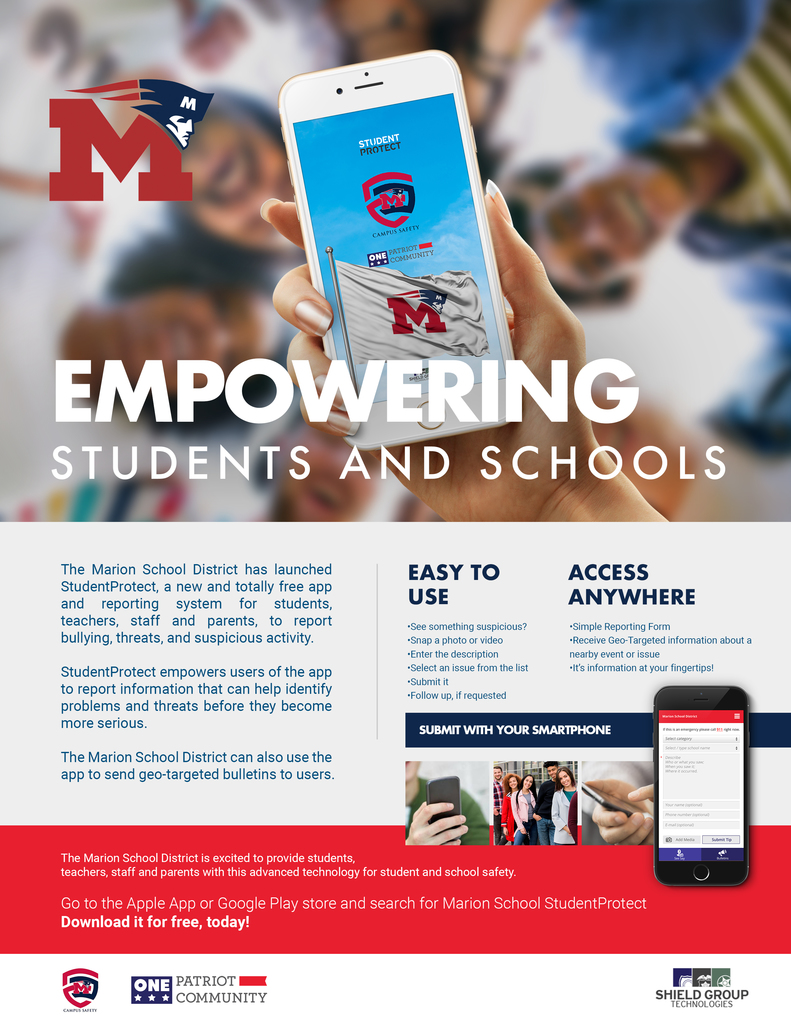 Welcome back! We hope everybody enjoyed their Fall Break, and we are excited to see everyone back at school Monday. How did you spend your Fall Break? Something fun? Something interesting? Something productive? Something relaxing? We would love to hear about it! Share your Fall Break experience -- or just post a photo about it -- in the comments below!

The Marion High School Patriot Pride Marching Band will begin a string of five marching competitions beginning with the Championships at Bartlett Station this Saturday (October 9) at the Bartlett High School Stadium in Bartlett, Tenn. The event begins at 6 p.m., with the MHS performance scheduled for 7:15 p.m. Admission is $10.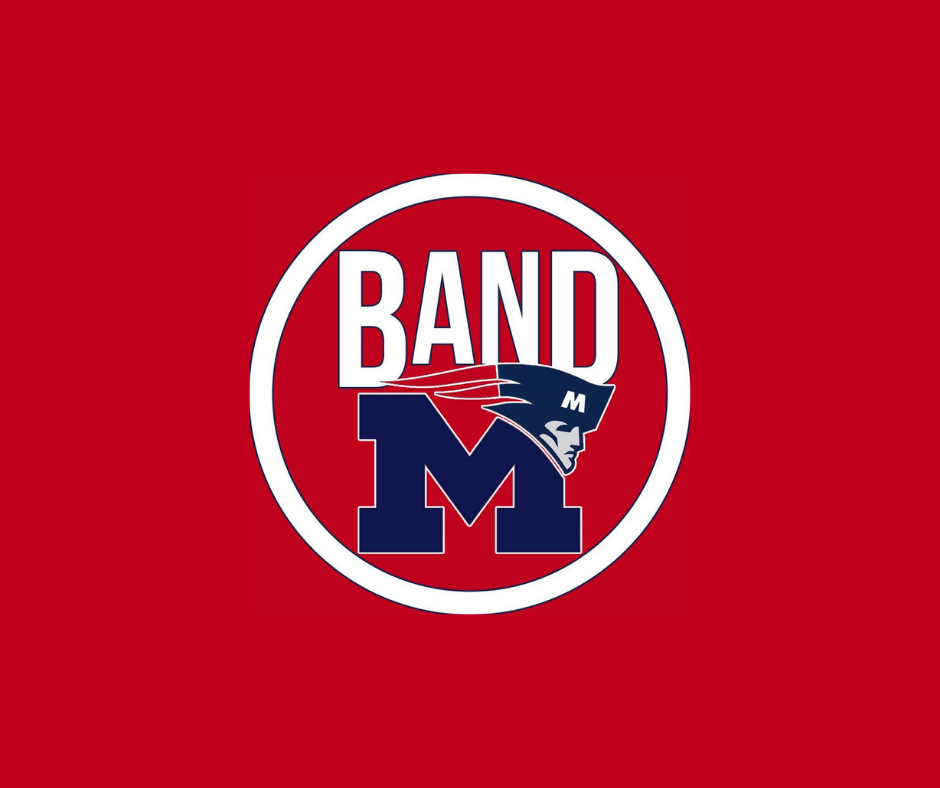 The Arkansas Department of Health will be hosting flu vaccine clinics at all campuses throughout the Marion School District in October. The dates are as follows: 10/15 -- VPA, MJHS 10/18 -- HCGC, 7th grade, K-8 ALE 10/19 -- MST 10/20 -- MHS and District Administration Office Flu vaccine paper packets with additional information will be sent home with students on Monday, October 11.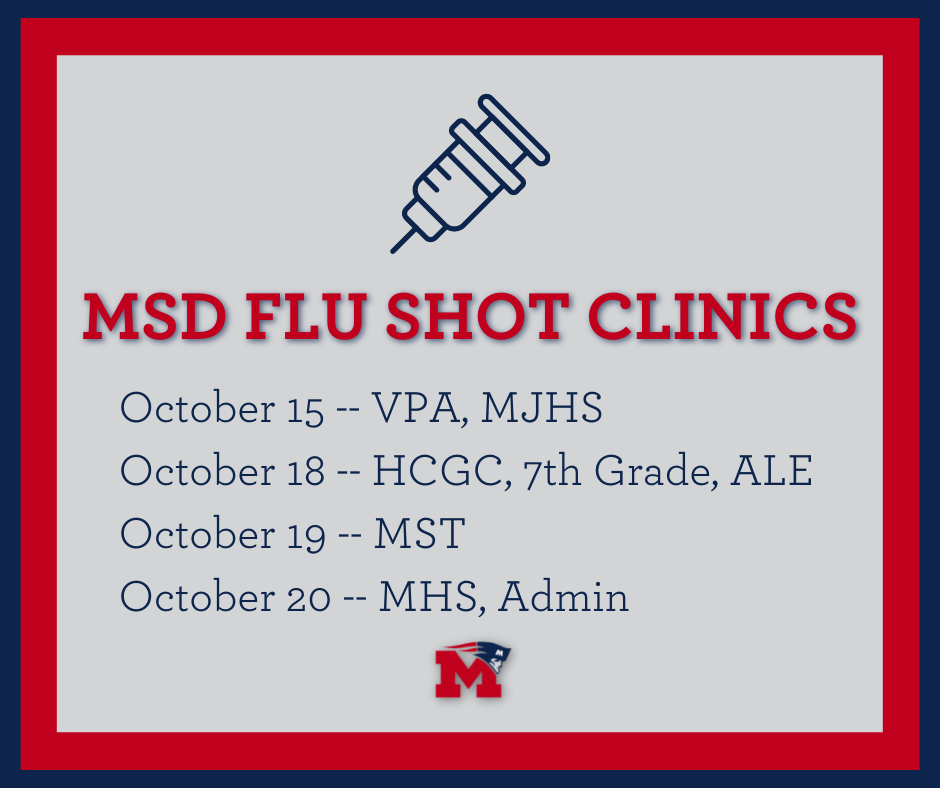 Fall Break is here! We wish all of our students a restful, rejuvenating time as they enjoy Fall Break from September 27 through October 8, as part of the Marion School District's Hybrid School Calendar. Classes will resume on Monday, October 11. Congratulations to all on a great first 9 weeks of school! For those who will be traveling during Fall Break, we wish you safe and happy travels. We look forward to seeing everybody back in class following the break!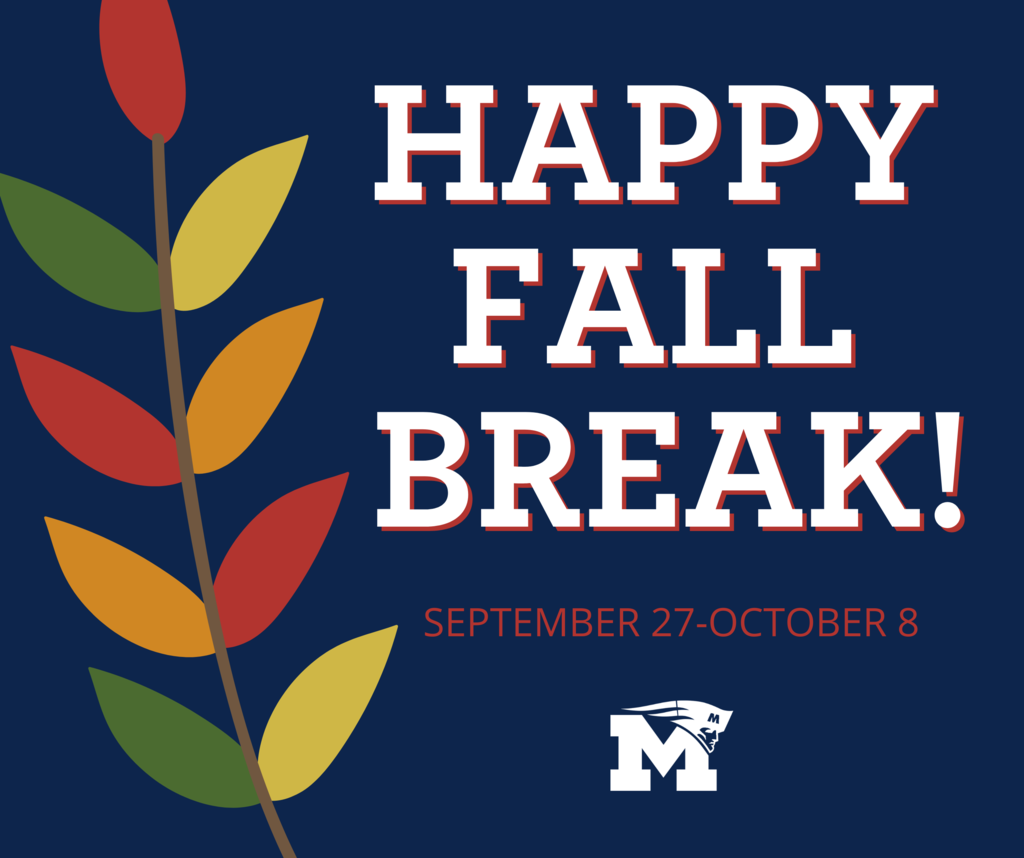 MSD parents: This is a reminder that if your student is missing a required immunization in order to attend school, those are due on October 1st each year. Please check your student's immunization status and keep in mind that your child cannot return to school after the fall break on October 11th, unless we have records indicating they have the required immunization. Immunizations are available at all local health clinics in the community and at the Crittenden County Health Department by calling 870-735-4334. The upcoming fall break would be a great time to get your child immunized without missing any instructional time in the classroom. If you have further questions, please contact the school nurse on your child's campus. Thank you for helping us keep your child healthy and properly learning here at Marion School District.

The Marion School District is looking for bus drivers! No experience is necessary, and one-site training will be available. Potential drivers must be at least 19 years old (21 for interstate driving). Drivers average 3.5 hours of work per school day -- works great with college schedules! For more information, contact Kenny Phillips, director of transportation, at
kfphillips@msd3.org
or 870-739-5190.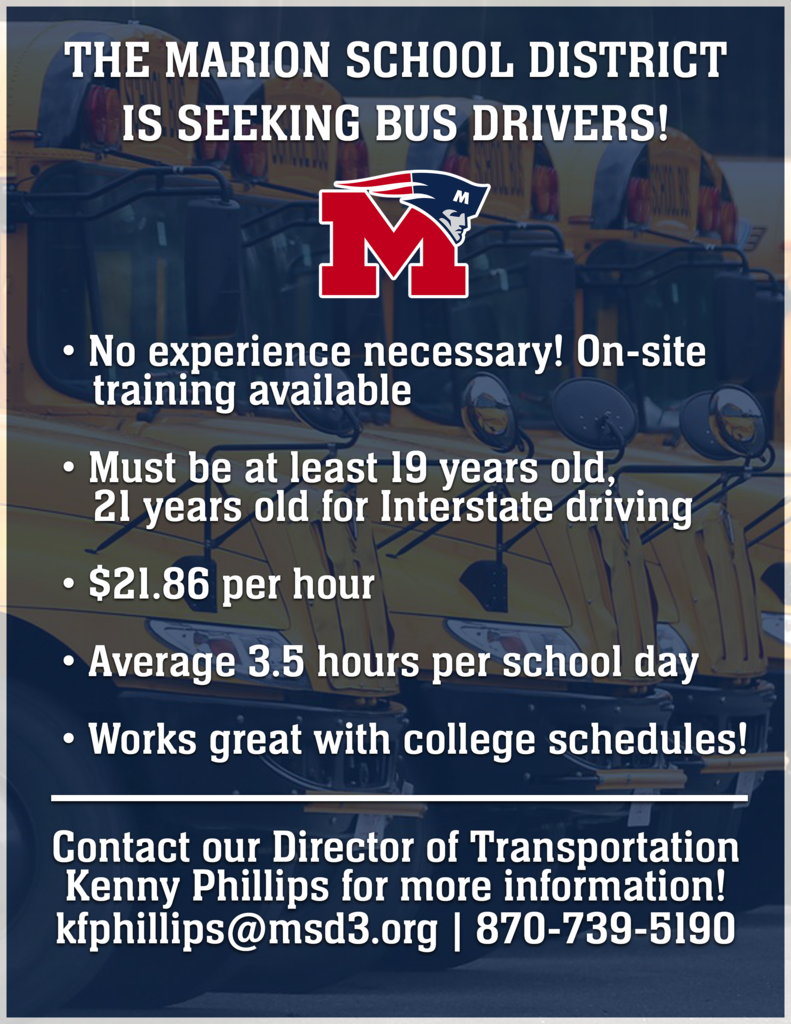 Marion Superintendent Dr. Glen Fenter recently sat down with Senator Keith Ingram for a virtual Town Hall event. In this session, recorded several weeks ago, Sen. Ingram and Dr. Fenter discuss the Covid-19 outbreak and subsequent quarantines at Marion at the onset of the school year, how the district is protecting students and teachers today, and how they hope to avoid future school shutdowns. Check it out here:
https://youtu.be/gXNtuc98eBM

Last Friday, players and coaches from the Marion Youth Sports Association and local AAU football leagues got to be part of the action as the Marion Patriots took on the Joe T. Robinson Senators. The event was part of Youth Football Night, one of several themed nights planned by Coach Lance Clark and the MHS football team. Youth players who wore their team jerseys got into the game free, watched pre-game warmups from the sidelines, and lined the tunnel when the team came on the field. The next theme night will be October 8, which will be Junior Patriot night. Marion football players from seventh to ninth grade will join senior high players and coaches in pregame meetings, get dressed before kickoff, and join the players on the sideline during the game. "The lifeblood of any successful football program is the youth, and we want those kids to feel a part of what we're doing," Coach Clark said.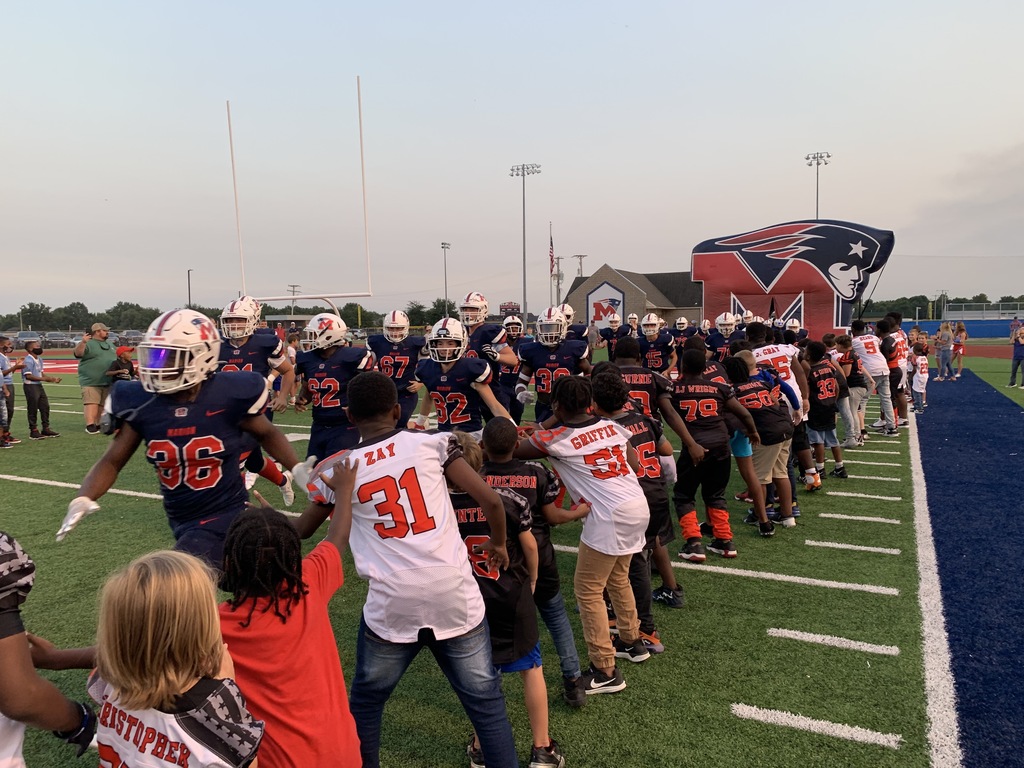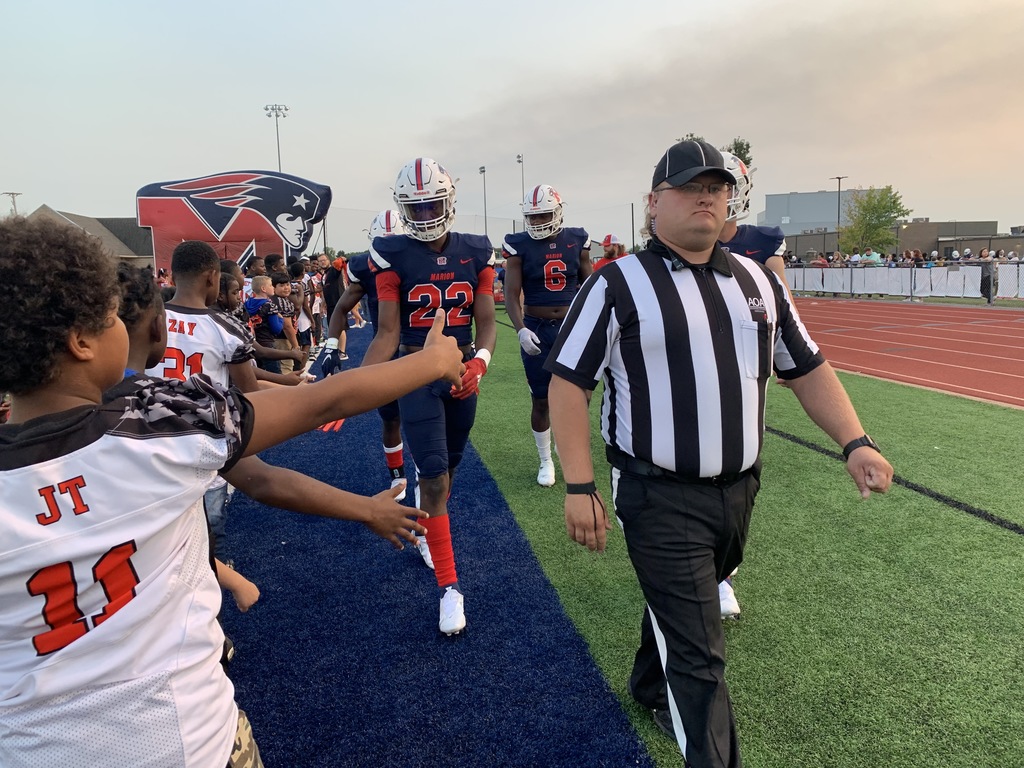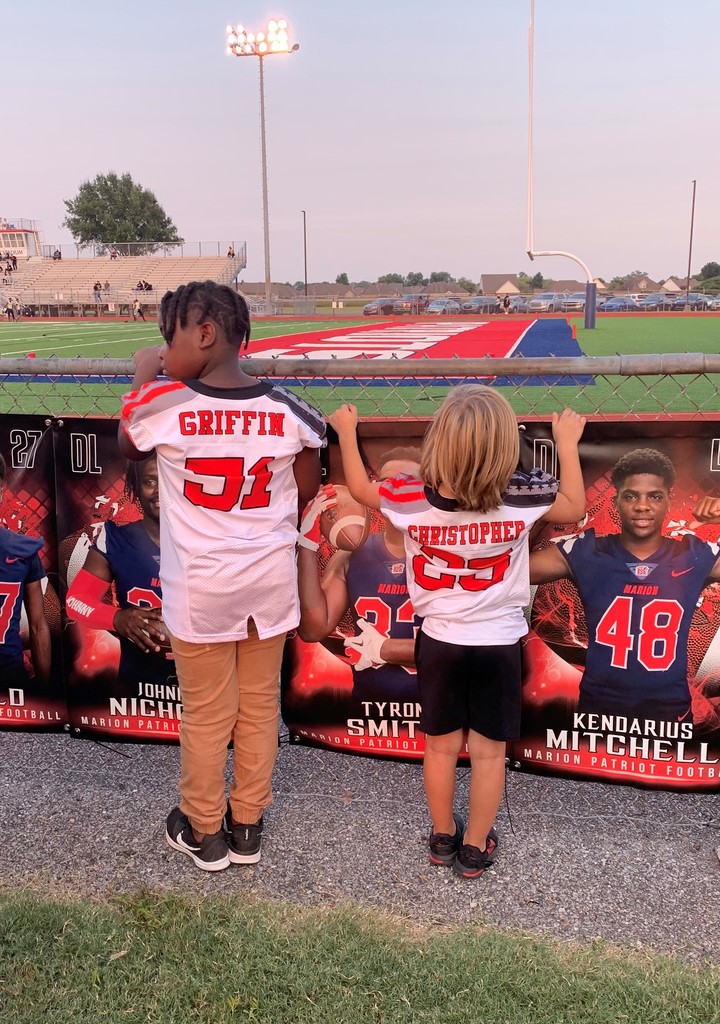 ATTENTION MSD FAMILIES: Please remember that standard immunizations are due Friday, October 1. This deadline is in regard to standard child immunizations (not the Covid-19 vaccination). The most common missing immunizations are meningitis (MCV4) for 7th-graders, TDAP for 11-year-olds, and a dose of MCV4 due after a student's 16th birthday. If you have a student in one of these groups, please check to make sure your child is current with their vaccines. ALL students must be in compliance with Arkansas Immunization Rules and Regulations to remain enrolled. Please contact your campus school nurse for any questions. For more information regarding required immunizations or contact information for campus nurses, please visit
https://5il.co/9r4c
. Thank you!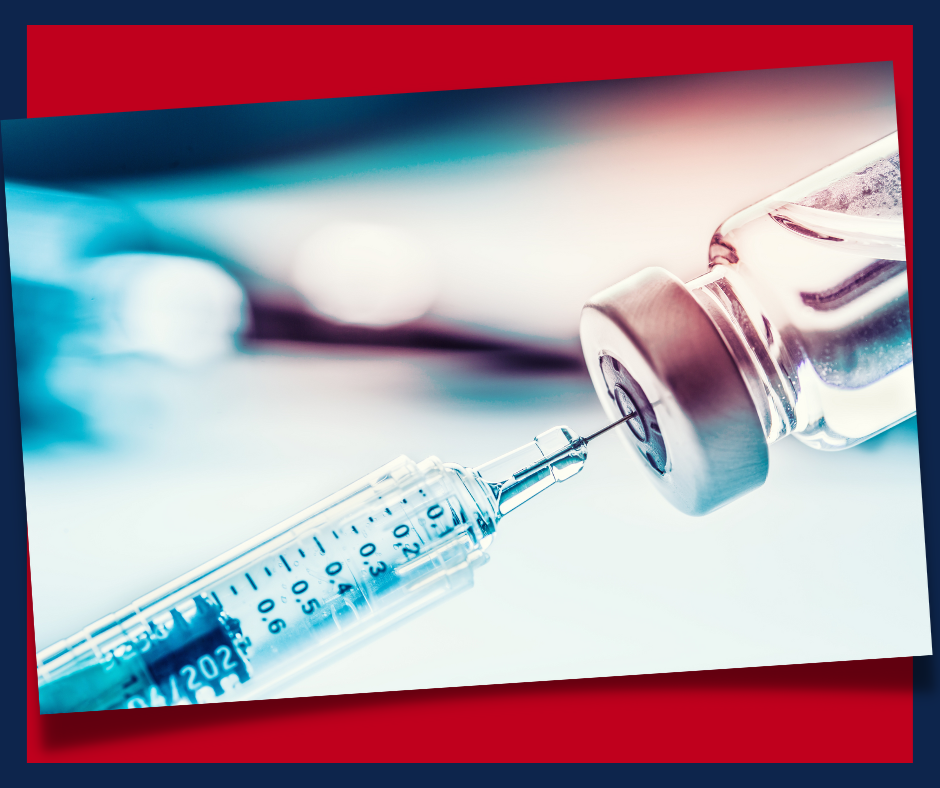 REMINDER: The Marion School District is hosting its next Community Covid-19 Vaccination Clinic from 12-3 p.m. Thursday (9/2) at Fidelity Bank Arena (Patriot Arena). The clinic is open to anyone in the community age 12 and up. First- and second-dose shots of the Pfizer vaccine will be given. Thursday's vaccination clinic is being held in conjunction with Parent-Teacher Conferences, which are being held from 1-7 p.m. This is a great opportunity to visit with your child's teacher, then head over to the arena to get vaccinated. Vaccination remains the leading public health prevention strategy to end the Covid-19 pandemic. With the rapid spread of the Delta variant, getting vaccinated is more important now than ever before. You can protect yourself, your family, and your friends from being infected. Students who are fully vaccinated will not have to quarantine, should they be exposed to an individual who tests positive for Covid-19 There is no charge. Parents must accompany anyone under age 16. Youths ages 16-17 do not need to have a parent present if they have a signed consent form (available at each school office). The Marion School District is partnering with the Arkansas Foundation for Medical Care, East Arkansas Family Health Center, and the Arkansas Department of Health to host vaccination clinics.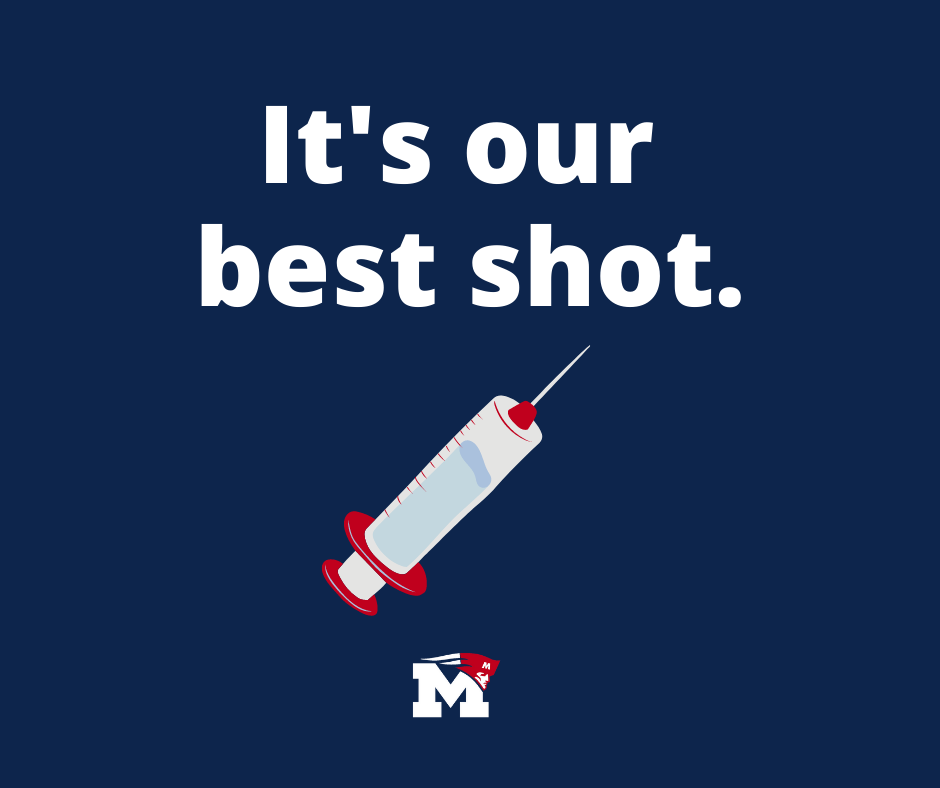 IMPORTANT REMINDERS: Thursday, Sept. 2: District-wide Parent-Teacher Conferences, 1-7 p.m. (no school) Thursday, Sept. 2: Vaccination Clinic, 12-3 p.m., Fidelity Bank Arena (Patriot Arena) Friday, Sept. 3: No school for students and most staff Monday, Sept. 6: Labor Day -- All district offices closed; no school