Anyone who has ever had a child or grandchild in school is probably familiar with the traditional "school awards assembly" – regular gatherings of students, teachers, and parents, where awards are handed out for achievements in academics and citizenship.
But the team at Herbert Carter Global Community Magnet School has taken the idea of the school awards assembly – and how they can enhance the school's "leadership" theme -- to a whole new level.
At HCGC, awards assemblies have been replaced with "Leadership Assemblies," and the whole idea is to use the events to promote the school's "Leader in Me" program. Based on an evidence-based model, the program is designed to build leadership and life skills in students, create a high-trust school culture, and lay the foundation for sustained academic achievement.
"At HCGC, we believe all students are leaders," said school counselor Shea Hart, who manages the assemblies for the school. "It's our job to help them figure out how they can be leaders and find their strengths. This is a great opportunity for those who love to have the spotlight. And they love to honor their classmates and their achievements."
The clear difference between typical school assemblies and the Leadership Assemblies at HCGC is that these events are almost entirely student-led. For students in grades 3-6, the students are the ones running the show. Students plan the events, serve as emcees, serve as featured speakers, and read the names of the award winners. For the lower grades, staff take on a slightly greater role, but even by second grade, students are beginning to be given greater responsibility for the event.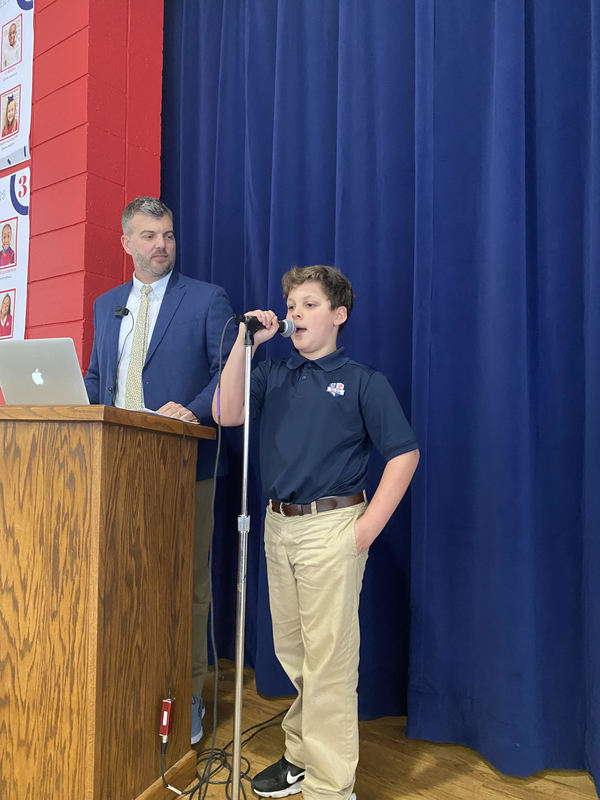 In addition to honoring academic achievements, students are also honored with "Habit" awards. These are awards given to students who exemplify one of the "7 Habits of Happy Kids" – the backbone of the school's "Leader in Me" program. At each assembly, different habits are celebrated. The seven habits include:
Be proactive: You are in charge of you
Begin with the end in mind: Know what you want before you do it
Put first things first: Do the important things first
Think win-win: Find ways everyone can win
Seek first to understand, then to be understood: Listen first, then talk
Synergize: Work together to do better
Sharpen the saw: Take care of yourself
In addition, awards are also handed out for each of the school's "auxiliary" classes – art, music, Spanish, physical education, and Discovery.
"To us, these awards are just as important as the academic awards," Hart said. "A leader doesn't have to be an all-A student. There are many ways you can be a leader."
The idea for the Leadership Assemblies came about four years ago. Hart said the inspiration came from some of her own anxieties about public speaking.
"As a counselor, I knew I would be in charge of the assemblies," she said. "I was so excited to honor the students, but I am terrified of speaking to large groups of people. I love going into a classroom and talking to kids about kindness and leadership, but being in front of a group of adults with a script, and being in the spotlight – it's not for me."
Since the school had just started the Leader in Me program, Hart said the school was already looking for ways to involve students in leading school activities.
"Involving students in the assemblies was a win-win," Hart said. "At first, they were just calling out the awards. Then I realized the parents wanted to hear the students, and students wanted to hear their peers. So we decided students would emcee. This is a great opportunity for those who want to be in the spotlight. Next year, I hope to have a group of students who enjoy being 'behind the scenes' help me with the design of the awards, programs, and stage decor."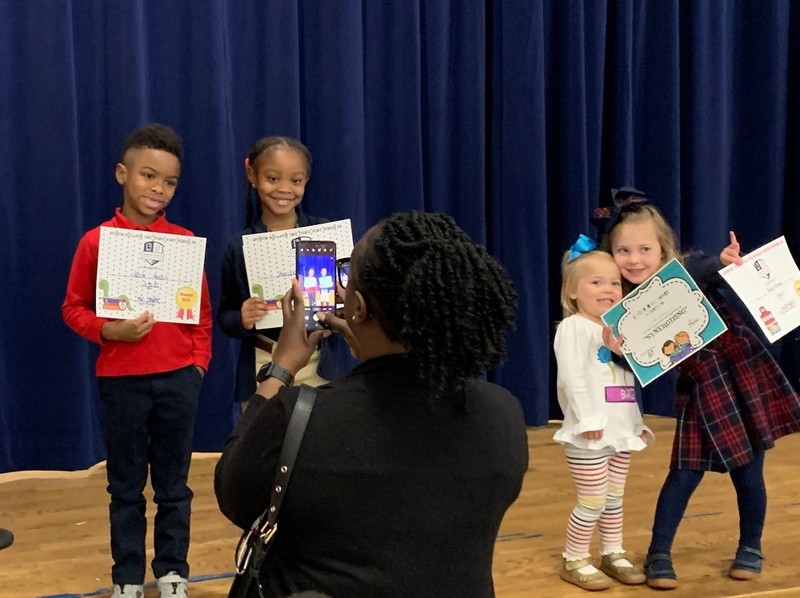 What has been great about the program, Hart said, is seeing kids blossom through their involvement in the assemblies.
"It's really special because some students are chosen who have a special stage presence and who love the spotlight," she said. "Some are chosen because they want to learn how to speak in public and want to be a shining star. These students do an amazing job standing and speaking in front of their peers and adults. I feel like we should have been doing this forever!"
The Marion School District is an innovative and growing district committed to helping every student find their unique path to success in school and in life. With more than 150 years of experience serving families in Crittenden County, the district offers a high school, a junior high, and three award-winning magnet schools. For enrollment information, including information on school choice (May 1 application deadline), visit https://www.msd3.org/ or call 870-739-5100.