Becoming a successful quiz bowl team does not come easily.
You've got to spend time practicing – learning facts, answering questions, and doing enough repetition that answers come quickly.
You've got to learn and memorize lists of all the key facts that come up repeatedly in quiz bowl competitions – on topics like Constitutional amendments, mythological heroes, classic works of literature, and elements of the periodic table.
You've got to learn about your teammates. Who is strong in what subject areas? Who knows their biblical facts? Who knows sports? Who can handle the mathematical computations?
For members of the Marion Junior High School Quiz Bowl team, this has been a year-long endeavor. From the beginning of the school year, the team has been practicing at least three times a week, after school, to prepare for the competitive season.
The good news is the hard work paid off. This season, for the first time in school history, the team qualified for the state quiz bowl competition, following a strong showing at regionals. On Saturday, the team brought home the fourth-place trophy.
The MJHS Quiz Bowl team consists of about 10 members, but only seven team members, all ninth-graders, made the trip to state. Each brought their own set of strengths to the team. Bradley Tolleson was the team's expert for questions about the Constitution, theology, and history. Jackson McGinnis was the go-to for sports and theater. For questions about English, the team turned to Jamari Davis. Alyson Munoz was the wiz in subjects like language, science, and music. Connor McFarland brought a knowledge of geography and history. Victoria Helms was the team's "wild card," with her wide range of general knowledge and obscure facts. As the team's scorekeeper, Christy Lotfield served the vital role of ensuring the team's points were accurately recorded.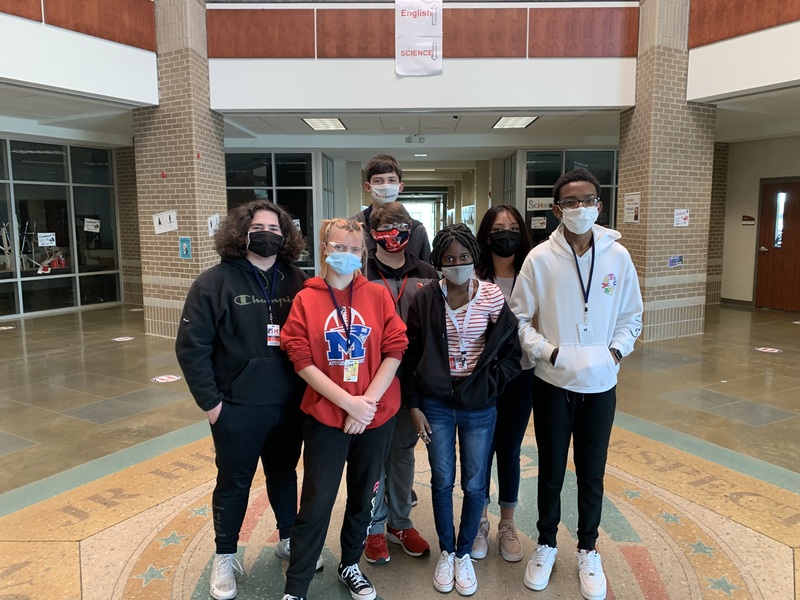 "What's great about our group is that we work together as a team," said Helms. "Most of us grew up together. We know each others' strengths and weaknesses, and we know how to build on that."
The team is coached by Ms. Krisma Hunter. Hunter said it's been rewarding to watch this year's team come together, especially since there were only two returning members. She said it's also been rewarding to actually attend quiz bowl competitions this year – last year, in-person competitions were not held because of the pandemic.
"Last year, it was all virtual," Hunter said. "It was a nightmare. We had to compete in classrooms on Zoom, and it was hard to hear what was going on. This year was so much more fun. The kids got to experience the great camaraderie of the quiz bowl community. It's wonderful to see students from around the state come together in the spirit of celebrating being smart. I'm glad our students got to be a part of that."