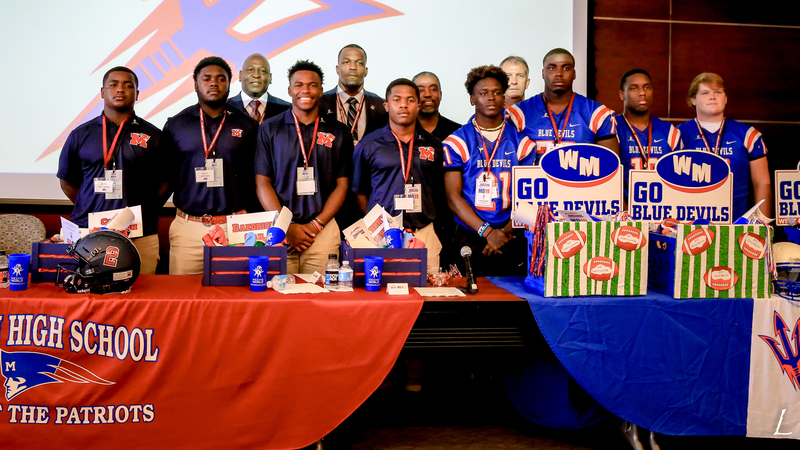 The Marion vs West Memphis rivalry is more than just a game. Through the work of a group of people that believe in the community, the event that Crittenden County residents love to hate has become a beacon of hope that fans on both sides can take pride in.
The Fred Leonard State Farm Hometown Showdown began as a fun tailgate for fans on both sides to commune before returning to their side of the bleachers. However, through the work of men like Grandon Gray and Fred Leonard, the game has become a chance for the two sides to lay down their weapons and come together to support one of the most renowned hospitals in the world.
Players and administrators from both sides toured St. Jude Children's Research Hospital Tuesday morning, where they saw first-hand where the funds raised between the two towns will be heading.
The fundraising efforts are split between a Team Patriot, Team Blue Devil, Team ASU-Mid South and Team Fred Leonard State Farm. Each team was tasked with a goal of 2,500 dollars for a total of 10 thousand dollars, but both Team Patriot and Blue Devil have each passed the four thousand dollar mark.
McKenzie West, a West Memphis student who is a current patient at St. Jude, shared her story with the two teams after the tour and thanked them for the help and awareness they have raised. Marion coach Keith Houston described her speech as breath-taking and a reminder of what true adversity looks like.
Both sides have had their own unique ways to raise funds for their teams. For example, Team Patriot has created a number of different ways for people to help their cause.
Some of their efforts have included shout-outs during live streams and home games, cheerleaders running the bleachers with donation buckets after football team scores, a duck call raffle and passes for teachers to wear jeans at work after donations.
The Marion Patriots Athletics Network has helped by having guests involved with the event on their weekly coaches show, The Patcast. Guests have included James Stafford and Justin Boddie from St. Jude, local business representatives who are sponsoring the tailgate and Fred Leonard, the event's title sponsor.
During their visit to MHS cyber studios, Stafford talked about how unique the Hometown Showdown truly is compared to other fundraising events the hospital has seen.
"To me, it shows compassion for the mission," Stafford said. "For us across the bridge to bring awareness to these two schools and have the two communities put aside their differences at the game, to me, that's inspirational."
The chance to rally behind a cause like St. Jude has been an experience that both sides can be proud of. Friday night, the opening kickoff will turn the gridiron into a battlefield, but hopefully the work of the Hometown Showdown offers enough goodwill to carry on after the clock hits zero.