The new JAG program at MHS was awarded $25,000 grant from Entergy Arkansas, LLC. JAG is an affiliate of Jobs for America's Graduates, Inc., which is a national school-to-work program that focuses on project-based learning and includes Governor Hutchinson among the Board of Directors.
JAG has 125 programs in Arkansas school districts and ranks second in the nation for scholarships received by JAG students (over $10 million was received across programs last year). With personalized skills development facilitated by JAG instructors, and interaction with local businesses and various career options through internships and service learning projects, JAG students receive a non-traditional approach to becoming career ready. The MHS JAG program equips at-risk youth with the skills needed to transition successfully to careers or college, addressing critical workforce needs, closing skills gaps and creating a competitive advantage for local communities.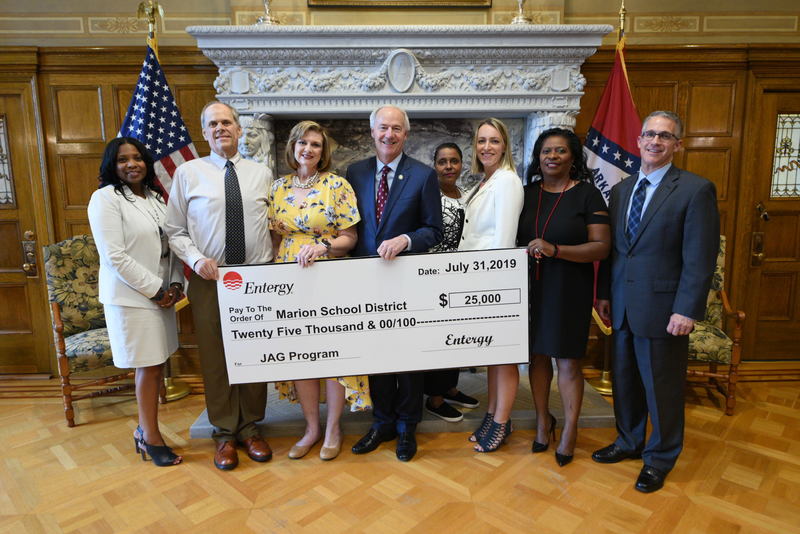 Pictured L to R
Sonja Wright-McMurray - Associate Director for Career and Technical Education, Career Readiness/Work-Based Learning, Elmer West - Director of Human Resources, Marion School District, Jenny West - JAG Specialist, Marion High School, Governor Asa Hutchison, Janice Robinson - Career Readiness and Special Projects, Janelle Duray - Sr Vice President for Jobs for America's Graduates, Mary Perkins-Jacobs - JAG Specialist, JA Fair High School, and Danny Games - Director of Business and Economic Development for Entergy Arkansas, Inc.