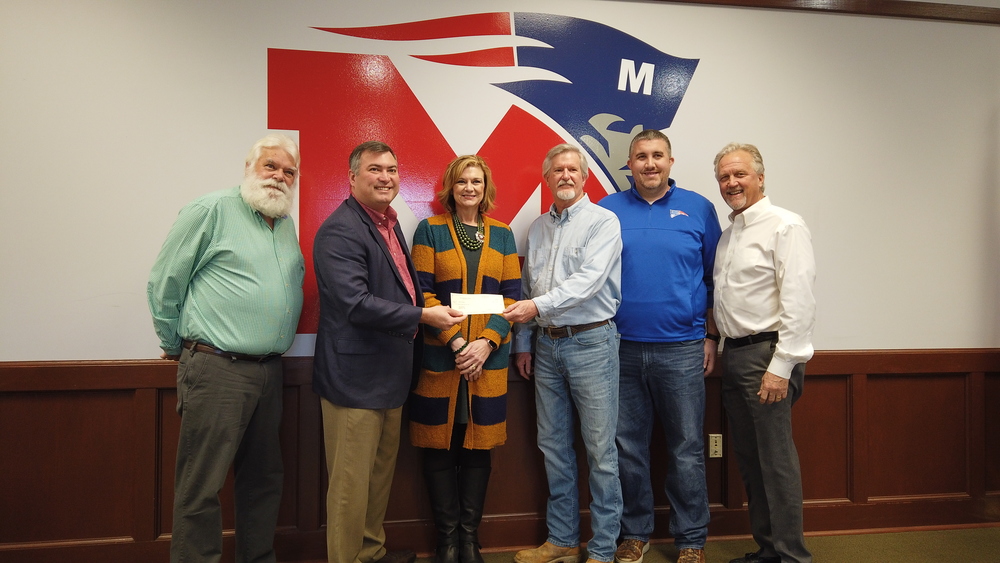 First Marion Remembers Elmer West with Donation to MSD Foundation
Tyler Bennett
Monday, December 09, 2019
First Baptist Marion honored their former chair of the endowment committee last week by presenting the Marion School District Foundation with a five thousand dollar check in memory of Elmer West. First Marion pastor Dr. James Nichols, associate pastor Stephen Watson and deacon Rick Wiggins presented the donation to the district where Elmer spent decades as an educator.
"This brings together the three great passions in Elmer's life: his church, this school and its sports programs," Nichols said. "Given everything he's done for us and the school district, we felt like this would be a worthwhile recognition in the form of this donation."
Also at the ceremony was Elmer's wife, Jenny. She said Elmer would have fussed about everyone making a big deal about him, but also that he would have approved of the church's donation.
"He would be very humbled and very honored that he was remembered in such a gesture," Jenny said. "These really were the most important institutions in his life. The church and Christ were his passion, but he also had a passion for the Patriots and the Marion School District."
Elmer loved his church and his church family at Marion First Baptist Church. He was the Sunday School Director as well as a Sunday School teacher.
He also played a key role in the church's construction in the 1990's and the redesign this past year. Though he did not feel well enough to attend services over the last few months, he did get to see the completed sanctuary and attend the dedication service on November 3.
He dealt with many things as an educator, but his relationships with the people around him always took top priority. Despite a three-year battle with cancer, those who knew him will confirm that he never lost his faith or his love for those around him.
"We take care of each other, we laugh and cry together." Elmer said before leaving the junior high last school year. "That side of (my job as principal) is something I'll miss the most."
He took over as the Director of HR and Compliance at the start of the 2019-2020 school year after being the principal at Marion Junior High School (MJHS) for over a decade. Marion superintendent Glen Fenter knew that the change would be difficult for Elmer at first, but that he was still the right man for the job.
"Clearly, Elmer has had a tremendous career to this point, positively impacting thousands of lives along the way," Fenter said. "Even though his position of responsibility is about to change, we do not expect that his positive impact on our district will be minimized in any way. We are extremely fortunate to have him on our team."
After being in and near classrooms for over three decades, the move to the central office was a change that Elmer slowly but surely grew to love. His office was near the center of a high-traffic area in the building where people (myself included) would occasionally pop in just to chat with him and check on how he was feeling.
He was an integral part of the Marion School District for over three decades. He will be missed by many.