Marion's VPA Offers New Opportunities for Students
Brandy Allison
Wednesday, November 06, 2019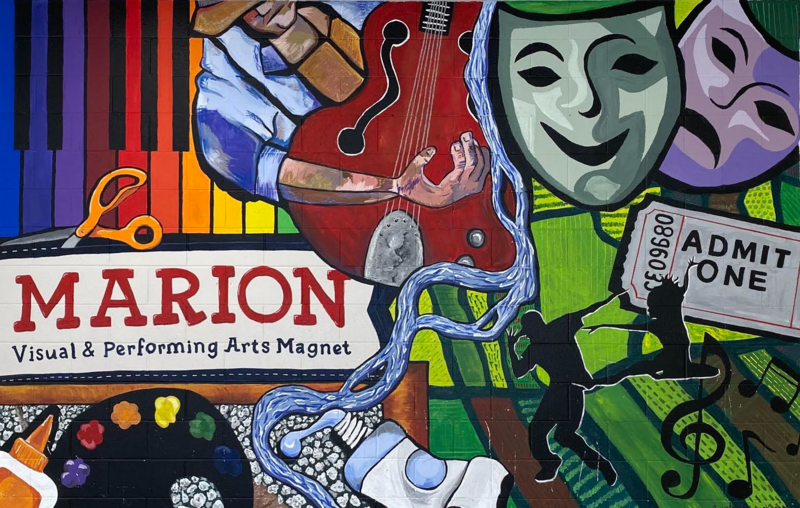 This year VPA has introduced several new opportunities for our students. The biggest addition being our focus on choice in specialty options in the upper elementary grades. This year, each 5th and 6th grade student was allowed to choose two intense art focuses for the school year. Their options included: drama, choir, drumming, art, discovery, or step team. Every student has an individualized schedule that allows students to explore their interests with like-minded peers. During these intense art focus groups, students delve deeper into the study of that art form and complete additional projects to gain a better understanding of the particular art form. This allows us to not only build each student's knowledge about the arts but also to refine their skills in their specific areas of interest.
In addition, we have a great opportunity to expose all our students to professional dance instruction by offering an intensive three-week study presented by Studio Gray. Every student at VPA will receive instruction in a form of dance from professionally trained dance instructors.
VPA is very excited to announce that we will be producing Mary Poppins Jr. in the spring of 2020. The auditioning process is currently underway. Students were required to perform a monologue and learn and perform a song from the production. The talent level of our students continues to amaze us and we cannot wait for the community to see the tremendous cache of talent that is VPA.
Sixth graders with good conduct and exemplary grades have the unique opportunity to participate in a VPA Honor Society. So far, the organization has sponsored several activities: a drug-free and bully-free pledge with all grade levels, a visit to the Willow Bend Nursing Home and reading to the residents, a 3rd-6th-grade math bee every nine weeks, and a visit to the sheriff's department.
We have also implemented 6th Grade Action Teams that assist in several areas campus-wide. We currently have students serving in the following areas: VPA ambassadors: these students represent the voice of VPA students in regard to what students want and/or need; Office/counselor helpers: these students assist us in ensuring that information and materials are disseminated in a timely manner; Kindergarten helpers: these students wait at our front door each morning and escort Kindergarten students to class; Flag raiser: these students raise our flag each morning and lower and fold the flag each afternoon; Campus Crew: these students look for ways to improve the state of our physical campus; Safety Team: these students assist with drills each month and encourage all students to follow protocol for safety.
In an effort to improve our efficiency and effectiveness in parental involvement, we hosted our first Pastries with a Pal in September. We had a fantastic turn out for the event. All VPA first and second-grade students were able to participate and eat breakfast with their friends and family members. Each grade level will have a similar event during the course of the school year.
A new event that is generating great excitement, is the opportunity that lies ahead of 5th and 6th-grade students. These students have been given the awesome opportunity to visit New York City this spring. Under the direction and guidance of our drama teacher, Whitney Hall, and our music director, Barry Bates, students will be immersed into the world of theatre, art, and history. They will have the opportunity to work with Broadway performers, view Broadway performances, visit landmarks, and build a repertoire of memories that will last a lifetime.
In only our second year as a Magnet, VPA is clearly establishing itself as an unprecedented opportunity for students in the region who have an interest in the Arts.
And the most exciting part is that we are just getting started!